Lorie Winkler
Director - District II
Lorie Winkler is a current USAA employee with over 35 years of service. Ms. Winkler has a background of leading professionals overseeing a variety of operational functions including payroll, tax, financial reporting, and accounting. For the past 10 years, she has led teams in the Internal Audit function for USAA and currently leads the talent management initiatives for internal audit. Ms. Winkler is active with college recruiting, investing her time in guest lecturing and highly engaged in mentoring young women. Also, volunteering with Junior Achievement and the San Antonio Food Bank.
Ms. Winkler holds a BA in Accounting and Computer Systems Management from Texas Lutheran University. She is a Certified Public Accountant, Certified Culture Facilitator, and Certified in Risk Management Assurance (CRMA).
In her community, Ms. Winkler supports Provisions, Bulverde Spring Branch Activity Center, and local water conservation programs. As a member of St. Paul Lutheran Church, Ms. Winkler currently serves on the Property Team and the Call Committee. Prior roles include leading the Sunday School Program and overseeing the St. Paul Christian Day School. She and her husband, Brent, have lived in Bulverde for over 25 years raising their two children, both Smithson Valley High School graduates.
Through her work, Ms. Winkler understands the importance of dependable and effective communication services, assessing business risks, and innovating products and services. Ms. Winkler, working from home on a full-time basis for over-a-year, has been fully dependent on the quality services of GVTC and is looking forward to serving our community.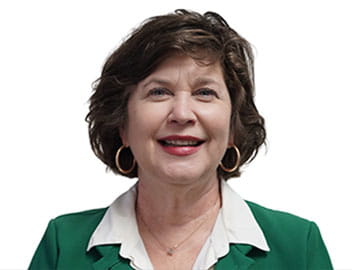 Lorie Winkler
Director, District II
First Elected:

2021

Last Elected:

2021

Next Election:

2024