Susan Bogle
Director - District IV
Susan Bogle has been a dedicated and effective Director on the GVTC Board since 2013 and serves as an active member on the Governance, Safety and Executive Committees, and previously on the Long Range Planning, Retirement & Security and 401(k) Committees. She also serves as the Vice Chairman of the Board for GVTC's wholly owned subsidiary, Guadalupe Valley Enterprises.
Ms. Bogle recognizes that extensive population growth, increasing competition from large companies and rapid advances in technology all present immediate challenges for GVTC. Her professional experience, business acumen, extensive board experience and community involvement make her a strong and valuable contributor to GVTC's continued success.
After graduating cum laude from the University of Houston with a BS degree, Ms. Bogle entered the insurance industry, working in the group life/health insurance division. Her career spanned decades, primarily working with state regulatory agencies and corporate human resources departments, acting as liaison with the Texas Department of Insurance, to serve both corporate customers and their employees.
Ms. Bogle is currently President of the Tye Preston Memorial Library Board and is also the Treasurer of the Gorge Preservation Society Board. Through the years, she has held board positions with seven additional area non-profit organizations, including Community Resource & Recreation Center and Texas Master Naturalists. Ms. Bogle received the Canyon Lake Chamber of Commerce's "Community Spirit Award" on two separate occasions, as acknowledgment of her contributions and community service.
Susan and her husband Jack, moved to Canyon Lake in 2001, where they have enjoyed the quality of life, rich heritage, and close-knit community that it provides.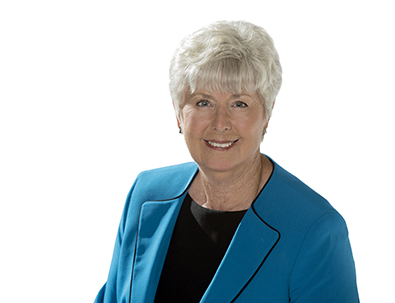 Susan Bogle
Director, District IV
First Elected:

2013

Last Elected:

2022

Next Election:

2025